Reimbursement for Medical Technology
Reimbursement of medical devices and medical equipment
Enclosed we give you a short overview about the reimbursement of medical devices and medical equipment in Germany.
sananet has specialized in reimbursement because we are aware that marketing medical devices without reimbursement can be quite difficult. This does not mean that there is no possibility with which, even without a Reimbursement Code, marketing would be possible in Germany. More information can be found in the evaluation criteria.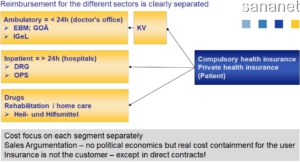 Reimbursement in the ambulatory sector
Reimbursement in the outpatient sector is based on the uniform assessment scale (EBM). It is the reimbursement system for contractual medical care in Germany. It is a social insurance-legal register in the German health service, according to which ambulatory and occupancy-medical achievements in the legal health insurance are accounted for.
The German Fee Schedule for Physicians (GOÄ) regulates the billing of medical services outside the scope of contractual medical care in Germany. Private patients, i.e. patients who are insured or uninsured with a private health insurance company and who pay for their treatment themselves, as well as those insured by the statutory health insurance system in the case of so-called individual health services or if they choose the cost reimbursement procedure, receive a private liquidation prepared in accordance with the regulations of the GOÄ.
Learn more about reimbursement in the outpatient sector here.
Reimbursement in the inpatient sector
In the inpatient sector (length of stay in hospital > 24h), the flat-rate DRG system is applied in Germany. This has an extreme impact on cost coverage of your product, since individual procedures and products are usually not reimbursed, but rather a disease-related reimbursement takes place.
To understand the basics of the DRG system, its patient-specific calculation (grouping) and the hospital-internal billing mechanisms are key to market success.
Here you can learn more about reimbursement in the inpatient sector.
Reimbursement for drugs and medical aids
Code number required > new technologies must be listed (basic requirements: CE, study within the EU, observational study).
Payment modalities of the health insurance
a.) Direct reimbursement of prescriptions
b.) Contract
with pharmaceutical company (discount contract)
or medical supply store (supply lump sums)
Learn more about the reimbursement of your remedies and aids here.
Reimbursement for Health Care APPs as DiGA
Under the Digital Healthcare Act ("Gesetz für eine bessere Versorgung durch Digitalisierung und Innovation"), Germany introduced a Digitale Gesundheitsanwendungen ("DiGA", digital health app) fast track process (the DiGA Fast Track Process) for rapid approval, testing, and reimbursement of digital health apps.
It is a great opportunity for fast access to the German health care market and to get reimbursement for your medical software as an APP. However it is not without pitfalls.
Learn more about the reimbursement of your Health Care APPs as DiGA here.
Do you have questions or need consulting?