DiGA
Reimbursement of medical APPs in Germany – DiGA Fast Track – your Opportunity to a fast Market Access
If you have a heath care software as APP, inclusion in the directory of digital health apps (DiGA) at the Federal Office for Drugs and Medical Devices (BfArM) is a great opportunity for a fast access to the German health care market.
Digital health APPs (DiGA; German Digitale Gesundheitsanwendung) can get a preliminary reimbursement in Germany via a fast track application.
Consulting to get DiGA in Germany
It all seems to be transparent and BfArM has published guidance to the Fast-Track procedure, which offers a summary of the regulations.
While the application process for digital health app looks simple enough, there are some pitfalls, especially with the timing, which might lead to a negative long term result.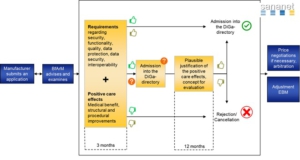 sananet can help you to get your digital health APP registered as digital health app and our consulting can avoid that after the preliminary reimbursement via a fast track application you get a rejection at the end.
What is DiGA and what are the basic requirements to get German reimbursement?
A DiGA is considered as a medical device with the following characteristics:
The medical device of risk class I or IIa (according to Medical Device Regulation)
The main function of digital health app is based on digital technologies, so in general a software or health APP
The medical purpose is essentially achieved by the main digital function
DiGA supports the detection, monitoring, treatment or alleviation of diseases or the detection, treatment, alleviation or compensation of injuries or disabilities
DiGA is used by the patient or by the service provider and the patient together.
Is DiGA Fast Track really fast in Germany?
In priipal yes, as digital health app assessment follows a Fast Track to reimbursement and market entry.
BfArM has to decide on the approval of a digital health app (DiGA) within three months after receiving the manufacturer's application.
Digital health companies can either apply for final or for provisional listing (under article 139e paragraphs 2 and 3 Book V of the Social Code, SGB V).
Provisional listing kicks off a 12 month trial phase after which the manufacturer needs to provide proof of "positive healthcare effects" (positive Versorgungseffekte, pVE) as a basis for the final listing.
The DiGA APP can be prescribed and is reimbursed in Germany during the entire trial period of 12 month. It seems DiGA fast track with the opportunity of a trial year is a great way to accelerated market access to the German health care market.
However if you do not use this period cautious and right, at the end there might be a rejection, what excludes you from the German market permanently or at least for a longer time.
sananet give consulting service to get DiGA reimbursement in Germany in an optimal way.
What are the Pitfalls to market once reimbursed as DiGA
Once you have a preliminary or permanent reimbursement for your DiGA, you want to start selling. However there are other hidden rules in the German health care market now, which might hinder success. sananet wants to give two concrete examples:
Benefit of the Prescriber of a DiGA
German doctors work in a sectoral reimbursement system. They are not used to do procedures which have a benefit for other sectors (e.g. hospital) or reduce the overall health expenditure. Once you understand this system, it becomes clear that the benefit of the DiGA has to be directly for the prescribing doctor.
As the benefit of the DiGA has to be directly for the prescribing doctor, there either has to be a direct reimbursement (which in principle is possible within the DiGA system in Germany) or the doctor has to work within a selective contract as DMP or "Integrierte Versorgung" to mention two. A hidden rule is that some DiGA might diminish the normal reimbursement and in that case are not so attractive.
The most important way is to give direct benefit to the prescribing doctor as shown above. Once that is given, the doctor will recommend it to his patients. An indirect way are patient organizations which can be helpful. The typical DiGA patient would search the internet and social media as well. Advertising is tricky in Germany as there are legal issues.
Privacy Data Security Management
DiGAs normally process sensitive personal health information, making data privacy a key concern. This is why, from 2022 onward, any new DiGA needs to be covered by an ISO 27001-compliant Information Security Management System (ISMS). But that might not be enough. Germany are much more serious about data privacy as many other countries. A server outside Germany could be a major problem for acceptance, a server outside the EU ever a killer for your project.
sananet not only give consulting service to get digital health app reimbursement fast but as well considers the successful access to the digital German health care market.
Do you have questions or need consulting?